The first exciting day of the week, except for Lorri & Tim arriving from Canada on Saturday, was Monday 7th May. We arrived in Ipswich in plenty of time to have dinner and get to the venue at about 7:30. Sorry Melvyn, but we decided not to watch the support, Brother Nature. We'd already seen them in Newcastle and in our experience theatre seats are so uncomfortable you spend as little time sitting in them as possible, so it's the main man only for us.
As it turned out, not going in to watch the support was a decision well made as we ended up meeting the very talented Geoff Dugmore (drums, percussion and musical director).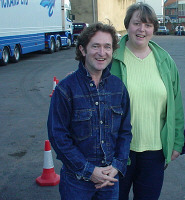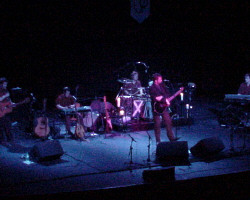 We were walking through the carpark at the rear of the theatre and it was one of those 'shall I or shan't I' moments. The man who had played drums/percussion at every Jimmy Nail concert we've been to, and on some of the albums, was standing alone in front of the tour bus. Not much time to think as he was only a few steps away so we thought 'well if you don't ask you don't get'. I said "Geoff", he looked a bit confused as though he thought perhaps he should know me and then he held out his hand to shake mine and the rest as they say is history. We had a chat about the tour and his role in it, and he allowed us to take his photograph. He was an extremely nice and friendly guy who is amazingly down to earth. As far as we were concerned this was the most exciting thing that could happen as we knew there was little or no chance of ever meeting Jimmy. We chatted to Geoff for about 10 minutes in all but of course he had a lot to do so he had to go off to work.
We had already had our evening made for us by Geoff so nothing else really mattered, but the show opened once again with a fabulous version of Lady D'Arbanville and continued with Crocodile Shoes, Big River, Blue Roses, Clear White Light etc, finishing with Ship Building.
Ipswich Town were playing Man City at home that night and Jimmy very kindly kept us up to date throughout. Luckily Ipswich won 2-1 so the mood was good. The only down side to the match was that it finished at about the same time as the gig so the traffic was terrible.